Innovien is Awarded ClearlyRated's 2023 Best of Staffing Achievement in Client and Talent, for Two Consecutive Years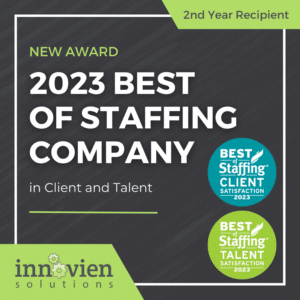 ATLANTA, February 13, 2023 – For two consecutive years, ClearlyRated has recognized Innovien Solutions as an award recipient of the 2023 Best of Staffing in Client and Talent annual achievement for providing superior service to clients and consultants.
Fewer than 2% of all staffing companies in the US (United States) and Canada achieve the Best of Staffing Client Award, and fewer than 1% achieve the Talent and Employee Satisfaction Awards. ClearlyRated's annual list of winners has proven to be industry leaders in service quality based entirely on ratings provided by clients and consultants. On average, clients of winning agencies are more than 70% more likely to be completely satisfied, and consultants placed by winning agencies are 80% more likely to be completely satisfied with the services provided compared to those working with non-winning agencies.
Topping national averages in client satisfaction, Innovien received an average score of 95% from nearly 80% of the company's nationwide enterprise clients—surpassing the industry's average of 46%. In 2022, Innovien received a Net Promoter® Score of 75% from clients, rating significantly higher than the industry's average of 31% in the same year.
In addition, to the company's overwhelmingly positive scores from clients, Innovien also received highly competitive ratings from consultants. 85% of Innovien's placed consultants ranked their satisfaction as 90%, doubling the industry's average of 45%. The consultant Net Promoter® Score for 2022 was 81%, quadrupling the national average of 19% for that year. Overall, consultant feedback for the year gave a comprehensive view of high-quality service from Innovien's team.
"We are very pleased to be named to this list for the second year in a row. As a team, we strive to not only offer the highest quality service to clients but to serve as advocates and resources for our consultants as well," said Camryn Mastel, Founder and Chief Executive Officer of Innovien.
Innovien is continuing to grow not only in their internal team, but their client consulting teams as well. To learn more about the current openings and stay on top of upcoming opportunities, please visit our website.
Innovien Solutions
Innovien Solutions is a technology solutions firm headquartered in Atlanta, GA, delivering project services and staff augmentation to enterprise clients across the United States. Innovien is a certified Woman Business Enterprise (WBE) and Woman Owned Small Business (WOSB) with technology specialties including but not limited to; Software Development, IT (Information Technology) Support, Data Analytics, Emerging Technologies, and Digital Transformation. Coupled with the company's significant growth are the accolades and awards of recognition received over the years. For the second consecutive year, Inc. 5000 has ranked Innovien within the Top 14% of its annual list of Fastest Growing Private Companies in America.
About ClearlyRated
Rooted in satisfaction research for professional service firms, ClearlyRated utilizes a Net Promoter® Score survey program to help professional service firms measure their service experience, build online reputation, and differentiate service quality. Learn more at https://www.clearlyrated.com/solutions/.
About Best of Staffing
ClearlyRated's Best of Staffing® Award is the only award in the U.S (United States). and Canada that recognizes staffing agencies that have proven superior service quality based entirely on ratings provided by their clients, placed talent, and internal employees. Award winners are showcased by city and area of expertise on ClearlyRated.com—an online business directory that helps buyers of professional services find service leaders and vet prospective firms with the help of validated client ratings and testimonials.