Inc. Magazine Ranks Innovien Solutions No. 73 on its Annual Southeast List of Fastest-Growing Private Companies in the Region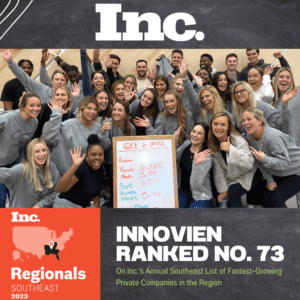 ATLANTA, February 28, 2023 – Today, Inc. has announced Innovien, a technology solutions firm delivering project services and staff augmentation to enterprise clients across the United States, as No. 73 on its third annual Inc. 5000 Regionals Southeast list. The third annual regional list spotlights the Southeast's economy in its most dynamic segment– independent small businesses. Inc's Regional list recognizes the fastest-growing private companies based in Alabama, Arkansas, Florida, Georgia, Kentucky, Louisiana, Mississippi, Puerto Rico, South Carolina, and Tennessee.
This list was born as an extension of the annual Inc. 5000 franchise, in which Innovien has had the esteemed honor of being recognized within the Top 14%  w. The Innovien team continues to pave the way in the Southeast through its positive contributions in adding 25,844 jobs to the region. The company also impacted economic expansion, as reflected in the median revenue growth rate of 174 percent from 2019 to 2021. Growth in this region accounts for nearly $7 billion in the Southeast's economy.
"It is an honor to be recognized as one of Inc.'s fastest-growing private companies. Being recognized on Inc. 5000's national list for two consecutive years has been a huge honor for our team, but to also see the impact we are making here in our region further ignites the drive of our team to keep raising the bar for excellence," said Camryn Mastel, Founder, and CEO of Innovien Solutions.
Innovien continues to receive recognition for rapid growth for being a leading service partner to several Fortune 50 companies nationwide. This team is committed to growth not only in their internal team, but their client consulting teams as well. To learn more about the current openings and stay on top of upcoming opportunities, please visit the website.
Innovien Solutions
Innovien Solutions, a technology solutions firm headquartered in Atlanta, GA. The company delivers project services and staff augmentation to enterprise clients nationwide. Innovien is a certified Woman Business Enterprise (WBE) and Woman Owned Small Business (WOSB) with technology specialties in Software Development, IT Support, Data Analytics, Emerging Technologies, and Digital Transformation. Coupled with the company's significant growth are the accolades and awards of recognition received over the years. For the second consecutive year, Inc. 5000 has ranked Innovien within the Top 14% of its annual list of Fastest Growing Private Companies in America. Innovien was also named to the Atlanta Business Chronicles Pacesetters List of the Fastest Growing Private Companies in Atlanta for three consecutive years and the largest Women Owned Firms in Atlanta for two consecutive years.
Methodology 
The 2023 Inc. 5000 Regionals are ranked according to percentage revenue growth when comparing 2019 and 2021. To qualify, companies must have been founded and generating revenue by March 31, 2019. They had to be U.S.-based, privately held, for-profit, and independent—not subsidiaries or divisions of other companies—as of December 31, 2021. (Since then, a number of companies on the list have gone public or been acquired.) The minimum revenue required for 2019 is $100,000; the minimum for 2021 is $1 million. As always, Inc. reserves the right to decline applicants for subjective reasons.
About Inc.
The world's most trusted business-media brand, Inc. offers entrepreneurs the knowledge, tools, connections, and community to build great companies. Its award-winning multiplatform content reaches more than 50 million people each month across a variety of channels including websites, newsletters, social media, podcasts, and print. Its prestigious Inc. 5000 list, produced every year since 1982, analyzes company data to recognize the fastest-growing privately held businesses in the United States. The global recognition that comes with inclusion in the 5000 gives the founders of the best businesses an opportunity to engage with an exclusive community of their peers and the credibility that helps them drive sales and recruit talent.
The associated Inc. 5000 Conference is part of a highly acclaimed portfolio of bespoke events produced by Inc. For more information, visit www.inc.com.