Innovien Solutions Honored as a 2023 Georgia Fast 40, Fastest-Growing Company in Georgia by the Association for Corporate Growth®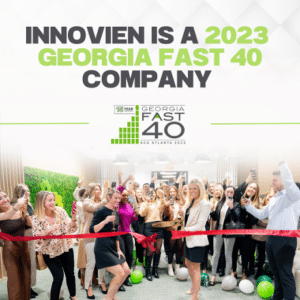 ATLANTA, June 28th, 2023 – Innovien Solutions, a leading technology solutions firm providing project services and staff augmentation to enterprise clients nationwide, proudly announces its recognition on the 2023 Georgia Fast 40 list by the Association for Corporate Growth® (ACG).
The Atlanta Chapter of the Association for Corporate Growth® (ACG), a global professional organization with the mission of Driving Middle-Market Growth®, announced the 2023 Georgia Fast 40, recognizing the top 40 fastest-growing middle-market companies in Georgia. All companies on this year's list are for-profit and headquartered in Georgia. Collectively, the 40 companies represent almost 11,000 new jobs and over 3.1 billion dollars in revenue growth over the last three years.
"We are honored and extremely grateful to be recognized as a 2023 Georgia Fast 40 company. This achievement is a testament to the hard work, dedication, and unwavering perseverance of our team and to our amazing clients who continue to trust us with their business," said Camryn Mastel, Founder and Chief Executive Officer of Innovien.
Meg Williams, Executive Director of the Association for Corporate Growth's Atlanta chapter, also shares, "The companies being honored this year exemplify ACG's focus on driving middle­ market growth and demonstrate the strength and significance of this sector in Georgia."
Innovien has continued its streak of recognition for rapid growth as a leading service partner to several Fortune 50 companies nationwide. This team is committed to growth not only in their internal team, but their client consulting teams as well. To learn more about the current openings and stay on top of upcoming opportunities, please visit the website. 
Innovien Solutions
Innovien Solutions, a technology solutions firm headquartered in Atlanta, GA. The company delivers project services and staff augmentation to enterprise clients nationwide. Innovien is a certified Woman Business Enterprise (WBE) and Woman Owned Small Business (WOSB) with technology specialties in Software Development, IT Support, Data Analytics, Emerging Technologies, and Digital Transformation. Coupled with the company's significant growth are the accolades and awards of recognition received over the years. For the second consecutive year, Inc. 5000 has ranked Innovien within the Top 14% of its annual list of Fastest Growing Private Companies in America. Innovien was also named to the Atlanta Business Chronicles list of largest Women Owned Firms in Atlanta for three consecutive years.
About ACG Atlanta
ACG's Global Network comprises more than 100,000 middle market professionals from corporations, private equity, finance, and professional service firms representing Fortune 500, Fortune1000, FTSE 100, and mid-market companies in 59 chapters in North America and Europe. Founded in 1974, ACG Atlanta is one of the oldest and most active chapters, providing the area's executives and professionals with a unique forum for exchanging ideas and experiences concerning organic and acquisitive growth. Programs include M&A SOUTH, The Georgia Fast 40 Honoree Awards and Celebration, Taste of ACG Atlanta, a Deal of the Year event as well as an active Women's Forum and Young Professionals group.