Innovien Brings Home Three More of Comparably's Best Company Awards in Happiness, Compensation, and Benefits & Perks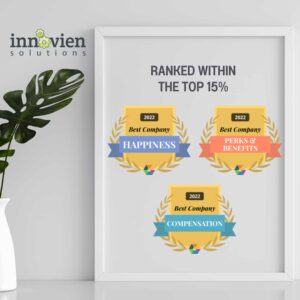 ATLANTA, October 13, 2022 – Comparably ranks Innovien Solutions, a technology solutions firm and high-performing provider of project services and staff augmentation, to the list of  for Happiness, Compensation, and Benefits & Perks in 2022.
Innovien's culture and employees remain at the center of business in the company's continued growth strategy. Through recent expansion into Nashville, Tennessee, and throughout the US, initiatives such as mentor and leadership programs, along with cross-functional collaboration activations, have been put in place to ensure the company's thriving culture prevails. As recognized in recent award ratings from the Innovien team, the initiatives in place continue to strengthen employee morale and engagement.
It is an esteemed honor to be recognized by Comparably in Happiness, Compensation, and Benefits & Perks out of over 500 companies in a similar class. Derived from sentiment ratings anonymously provided by employees, Comparably Awards are multi-categorial rankings about company workplaces on Comparably.com during a 12-month period. Winners are then determined based on 20 core culture metrics, ranging from work-life balance and environment to compensation and career growth.
"To see the company be awarded for things like Happiness, Compensation and Benefits & Perks was a very cool moment for me. We work hard to make this a place where our team can thrive and where they love coming. We have seen a lot of notable recognition lately on our growth, etc. but knowing our team is happy and enjoys where they work is definitely one we are most proud of,"  said Camryn Mastel, Founder and Chief Executive Officer of Innovien.
Comparably co-founder/CEO Jason Nazar notes, "our data shows that the happiest employees are often those who feel valued by their employers through a variety of factors like competitive compensation, clear goals, work-life balance, and a general excitement working for their organizations; the top-rated companies on our annual list succeed at meeting the needs of their workers across these very important factors."
As seen in the Business Insider, Innovien Solutions was also recognized in recent quarters by Comparably as a Best Company for Career Growth and in the Best CEOs for Women category. The team is actively recruiting for various career-excelling roles to continue to grow and expand the company. To learn more about the open opportunities, please visit the Innovien careers website.
Innovien Solutions
Innovien is a technology solutions firm headquartered in Atlanta, GA, delivering project services and staff augmentation to enterprise clients across the United States. Innovien has a continued growth path with expansion into Connecticut, North Carolina, and most recently Nashville, TN.  Innovien is a certified WBE and WOSB with technology specialties including but not limited to; Software Development, IT Support, Data Analytics, Emerging Technologies, and Digital Transformation.
Methodology
Comparably is a leading workplace culture and corporate brand reputation platform with over 15 million anonymous ratings on 70,000 companies. With the most comprehensive data on large and SMB organizations in nearly 20 different workplace categories – based on gender, ethnicity, age, experience, title, industry, location, and education – it is one of the most used SaaS platforms for employer branding and a trusted third-party site for workplace culture and compensation data. For more information on Comparably and its annual Best Places to Work, Best CEOs, and Best Brands series, visit www.comparably.com.
Contact
LaTisha Ebanks
latisha@innovien.com