Innovien Solutions Sets Sights on Federal Services Market, Expanding Their Portfolio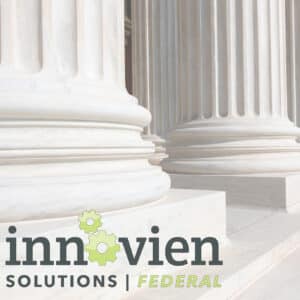 Atlanta, GA – October 11th, 2023 – Innovien Solutions, a Woman Owned Small Business (WOSB) technology services fi rm headquartered in Atlanta, GA, is excited to announce a significant milestone.
Having traditionally catered to Fortune 50 companies in the commercial market, Innovien will be launching into the Federal Services industry, expanding the company's initiative and commitment to providing top-tier talent and cutting-edge solutions to enterprise federal customers.
"Our expansion into the Federal Services industry is a testament to our commitment to provide world class solutions at the highest level," says Camryn Mastel – CEO of Innovien Solutions. "This has been a long time in the works and we believe we have the team and focus to make a substantial splash in this marketplace."
Leading the charge in this endeavor is Brad Henry, a seasoned professional with over 15 years of experience in the government contracting and IT staffing sector. Brad's most recent role at Leidos, a prominent name in the industry, underscores his proficiency in the fi eld. As head of the Federal Services division at Innovien, he brings a wealth of knowledge and insight into the unique challenges faced by government contracting organizations.
By harnessing their deep industry knowledge and ability to deliver successful results to critical initiatives, Innovien is committed to assisting federal agencies in locating the right talent to support their missions and objectives effectively.
Innovien Solutions invites you to learn more about their Federal Government Practice and their dedication to achieving excellence by visiting their official website at www.innovien.com.
About Innovien Solutions:
Innovien is a certified Woman Owned Small Business
(WOSB) and technology services fi rm based in Atlanta, GA. The company specializes in delivering project services and staff augmentation to enterprise clients nationwide. With expertise in Software Development, IT Support, Data Analytics, Emerging Technologies, and Digital Transformation, Innovien is known for its innovative and flexible solutions. The company has received numerous accolades, including being ranked within the Top 14% of Inc. 5000's annual list of Fastest Growing Private Companies in America for two consecutive years and recognition as one of the largest Women Owned Firms in Atlanta by the Atlanta Business Chronicle for three consecutive years. For media inquiries or further information, please contact Sydney Brittain at Innovien.com.