Innovien Solutions Wins Women in Technology's Best Places to Work for Women Inaugural Award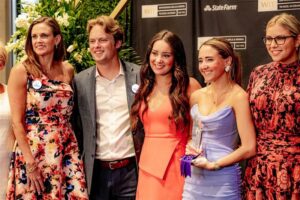 ATLANTA, June 12, 2023 – Innovien has been announced as the winner of Women in Technology's (WIT) inaugural award for Best Places to Work for Women by Women Who Work There.  This award is given to companies that create and sustain cultures that support women at all levels. Honorees of the list provide opportunities for women of all ethnicities, ages, and backgrounds to thrive and excel in the workplace.
"Innovien Solutions has demonstrated an unwavering commitment with a consistent approach to creating a workplace that empowers and supports women," said Penny Collins, President, and CEO of Women In Technology. "Their dedication to diversity and inclusion is commendable, and they continue to serve as a shining example for other companies in the industry. We are proud to recognize their efforts and achievements with this distinguished award."
As a leading technology solutions firm providing project services and IT staffing to enterprise clients nationwide, Innovien has proven to excel in delivering premier solutions for clients while offering a thriving culture for its internal team. Founded on a mission to bridge the gap of women leadership in the industry, Founder and CEO, Camryn Mastel has ensured opportunities for empowerment and advancement were woven in Innovien's DNA—as demonstrated in the 75 of departmental leadership roles assumed by women.
The company also received recognition as a Top 5 company on the 2023 list of 50 Fastest Growing Women-Owned and Led Companies by the Women Presidents Organization, is a consecutive Top 14% company on the INC 5000 list of Fastest Growing Private Companies in America, 2023 Georgia Fast 40 company by the Association for Corporate Growth® (ACG), and awarded as a 2022 Top 10 Best Company for Women and Best CEO for Women honors by Comparably.
"This award is very personal and special to me. It can sometimes be easy to get wrapped up in the day-to-day and question if all the hard work is really making the impact that you set out to make. Knowing this award was voted on by the women on this team is a great reminder that we are doing the right thing and it is extremely motivating to continue to create an environment of opportunity where women feel empowered to thrive in their own successes" said Innovien CEO, Camryn Mastel.
The company has continued its streak of recognition for rapid growth as a leading service partner to several Fortune 50 companies nationwide. The team is actively recruiting for various career-excelling roles to continue the growth and expansion of the company. To learn more about the open opportunities, please visit the Innovien careers website.
Innovien Solutions
Innovien Solutions, a technology solutions firm headquartered in Atlanta, GA. The company delivers project services and staff augmentation to enterprise clients nationwide. Innovien is a certified Woman Business Enterprise (WBE) and Woman Owned Small Business (WOSB) with technology specialties in Software Development, IT Support, Data Analytics, Emerging Technologies, and Digital Transformation. Coupled with the company's significant growth are the accolades and awards of recognition received over the years. In 2022, Innovien received multiple recognitions from Comparably including Best Company for Women and Best CEO for Women; the company also ranked #5 on the 2023 list of 50 Fastest Growing Women-Owned and Led Companies by the Women Presidents Organization (WPO).
About WIT
Women In Technology (WIT) is a nonprofit organization dedicated to empowering women in the technology industry. With a mission to advance women's contributions within the technology sector, WIT provides opportunities for networking, professional development, and mentorship. Through its programs and initiatives, WIT aims to inspire girls and women to excel in STEM fields and pursue successful careers in technology.
Contact
LaTisha Ebanks