Innovien Unveils State-of-the-Art Headquarters at The Interlock, near the Tech Square of Midtown Atlanta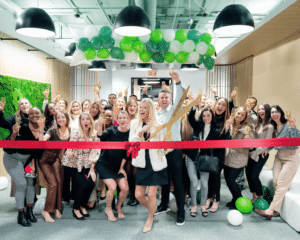 ATLANTA, January 18, 2023 – Innovien Solutions revealed a new headquarters (HQ) at The Interlock, located in West Midtown Atlanta. The new workspace features a loft-style floor plan and a top-floor view of Atlanta's riveting skyline.
In the last year, Innovien doubled its internal headcount and in turn outgrew their previous space prompting them to begin the search for a new home. As a highly collaborative and growth-oriented team, maintaining the company's engaging culture was of upmost importance in their search. Innovien landed on The Interlock's new award winning, $750 million-dollar mixed-use building with unparalleled entertainment, living, and dining options, as the landmark for its new, state-of-the-art HQ.
"I am extremely proud of the new heights we reached this past year and the ways we've grown as a team. Opening a new HQ at The Interlock is proving to be the perfect choice for our energetic team. To achieve our continued growth plans we need to make sure we are putting our best foot forward when it comes to attracting and retaining top talent and The Interlock helps us do just that. I am eager to see all that we will accomplish in this new space and the mark we'll make in this growing tech scene overall." said Camryn Mastel, Founder and Chief Executive Officer of Innovien.
Innovien's new HQ is designed with dynamic workspace, an open floor plan to encourage collaboration, and an earth-tone palette throughout the office, creating a warm and inviting space for their team.  Interlock's aim is to serve as a hub for culture, technology, and commerce to converge, making it the ideal presence for Innovien's team. Located near Atlanta's riveting Tech Square, the building also features fine dining, fast casual restaurants, retail shopping, entertainment spaces, and a rooftop pool and lounge—Rooftop LOA.
To learn more about opportunities with Innovien, please visit the Innovien careers website.
Innovien Solutions
Innovien is a technology solutions firm headquartered in Atlanta, GA, delivering project services and staff augmentation to enterprise clients across the United States.  Innovien is a certified WBE and WOSB with technology specialties including but not limited to; Software Development, IT Support, Data Analytics, Emerging Technologies, and Digital Transformation.
Check Out Some of our Images